40 Days to the Cross: A Devotional for Lent
Confession: Psalm 32:8–11
I will instruct you and teach you
in the way that you should go.
I will advise you with my eye upon you.
Do not be like a horse or like a mule, without understanding;
that needs his tackle—bridle and rein—for restraint
or he would not come near you.
Many are the pains of the wicked,
but for the one who trusts Yahweh
loyal love surrounds him.
Be glad in Yahweh and rejoice, you righteous,
and shout for joy, all you upright of heart.
Reading: Mark 11:20–25
And as they passed by early in the morning, they saw the fig tree withered from the roots. And Peter remembered and said to him, "Rabbi, look! The fig tree that you cursed has withered!" And Jesus answered and said to them, "Have faith in God! Truly I say to you that whoever says to this mountain, 'Be lifted up and thrown into the sea!' and does not doubt in his heart, but believes that what he says will happen, it will be done for him. For this reason I say to you, whatever you pray and ask for, believe that you have received it, and it will be done for you. And whenever you stand praying, if you have anything against anyone, forgive him, so that your Father who is in heaven will also forgive you your sins."
Reflection
He showed His power to take vengeance. Wherefore not in any other, but in the moistest of all planted things did He work the miracle, so that hence also the miracle appeared greater.
And that you might learn, that for the disciples' sakes this was done, that He might train them to feel confidence, hear what He said afterwards. "You also shall do greater things, if you are willing to believe and to be confident in prayer" (John 1:50; Matt 21:22 [paraphrases]). All is done for their sake, so that they might not be afraid and tremble at plots against them? For this reason He said this a second time also, to make them cleave to prayer and faith. "For not this only shall you do, but also shall remove mountains; and many more things shall you do, being confident in faith and prayer" (Matt 21:21–22 [paraphrase]).
—JOHN CHRYSOSTOM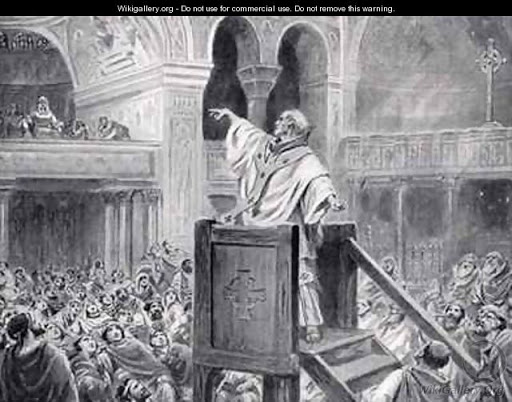 HOMILIES OF ST. JOHN CHRYSOSTOM
Response
Do you feel confident in prayer and faith? Do you trust that God is at work in your life? He hears your requests. Today, pray in this confidence.